In line with the University's guidance, the Department of Germanic Languages is open but operating remotely. For general questions, you may contact the administrative staff via email at germanic@columbia.edu.   For updates related to COVID-19 and Columbia, please visit columbia.edu/content/coronavirus.
AY 2020 - 2021 Course Schedule
As announced by the President of Columbia University in April 2020, the 2020-2021 academic year will be comprised of three semesters:  Fall 2020, Spring 2021, and Summer 2021. The Department of Germanic Languages will therefore offer courses for undergraduate students (and, in some cases, for graduate students) in each of these terms.
This page provides an overview of our course offerings for all three terms, to help students as they make decisions and plans for the academic year ahead. Please note that this schedule may be subject to change, and students are encouraged not only to revisit this page but also to confirm the course listings in the online Directory of Courses and Vergil, where course descriptions and class meeting times are updated regularly. 
Please contact the following people with questions about the courses listed or with questions about undergraduate or graduate programs of study: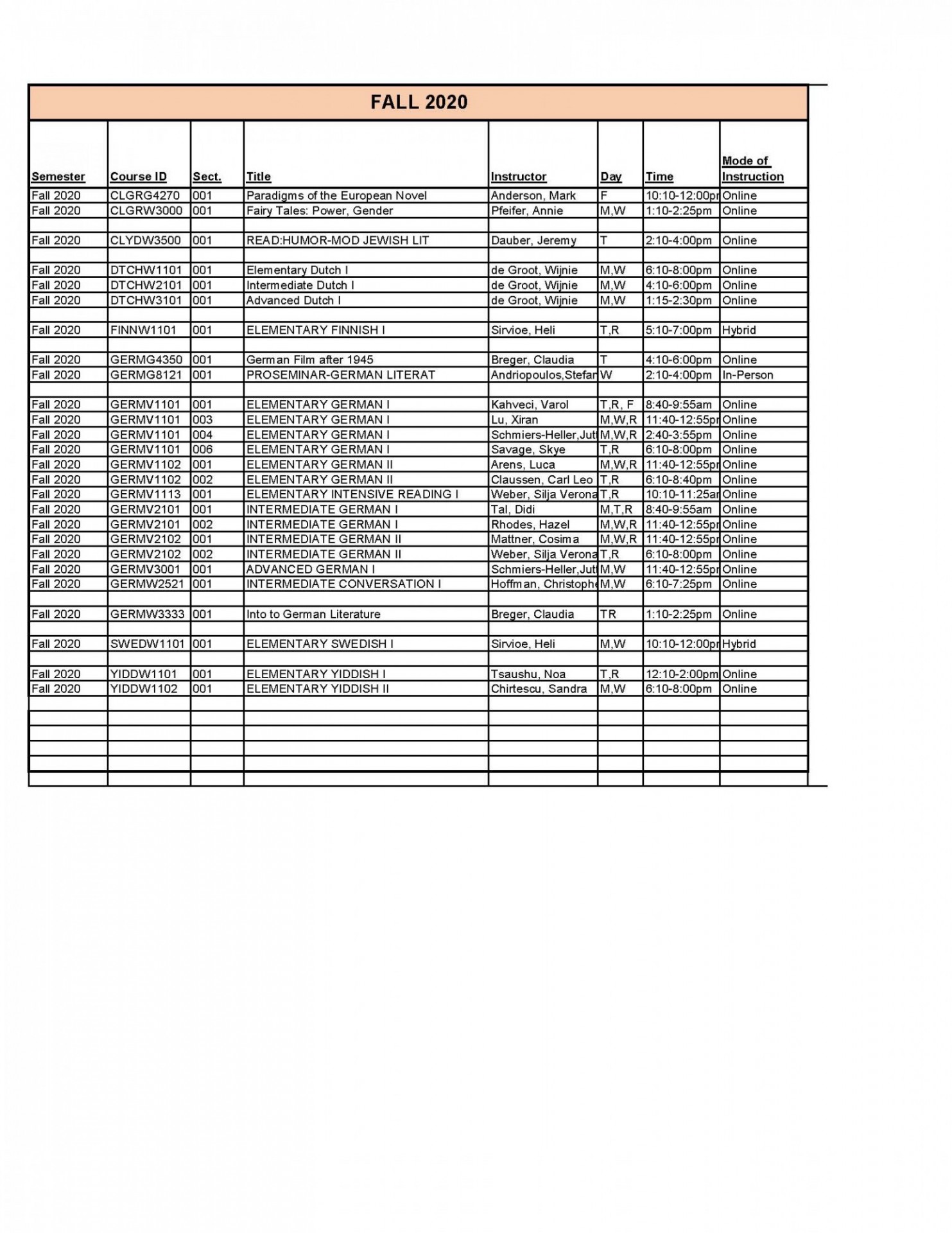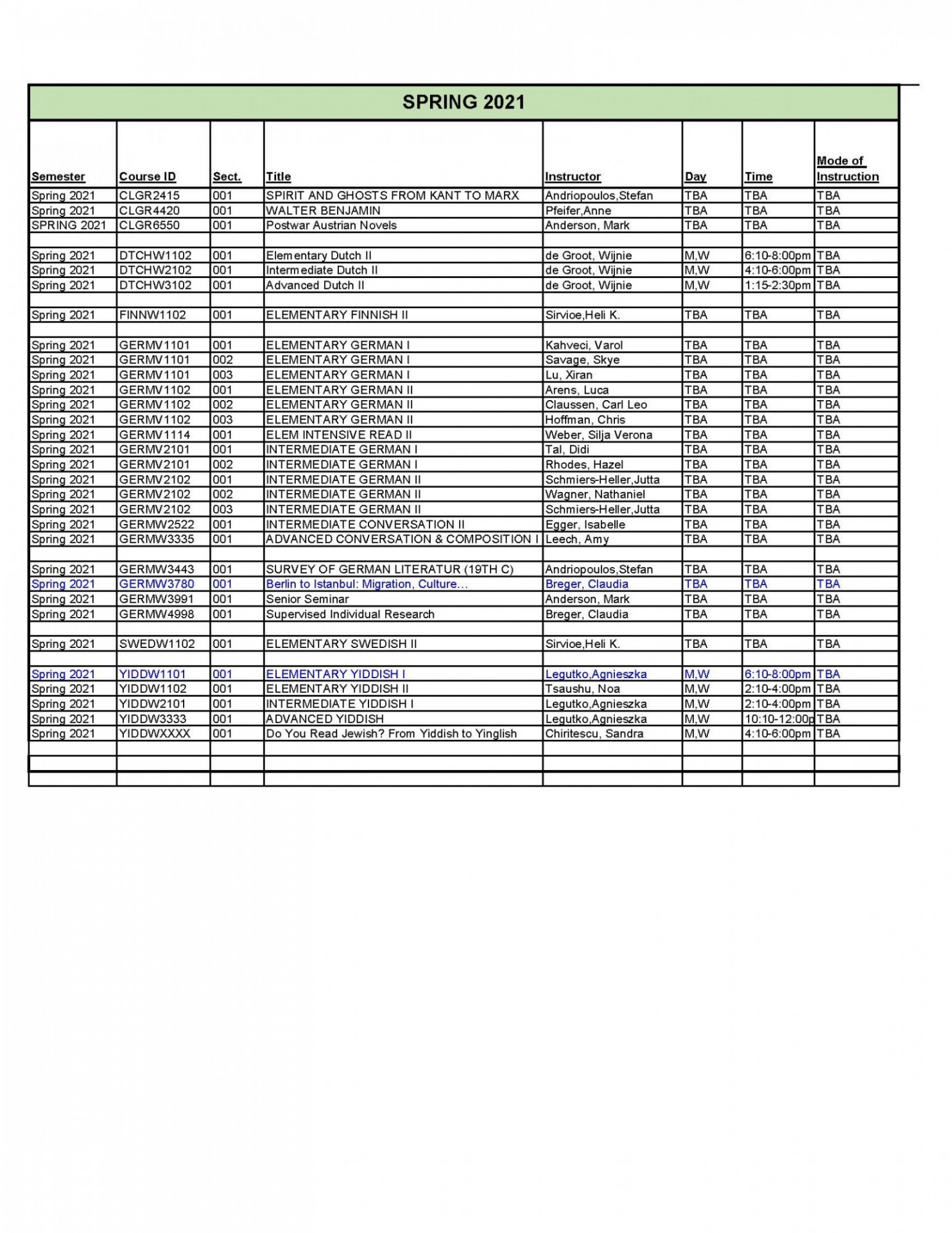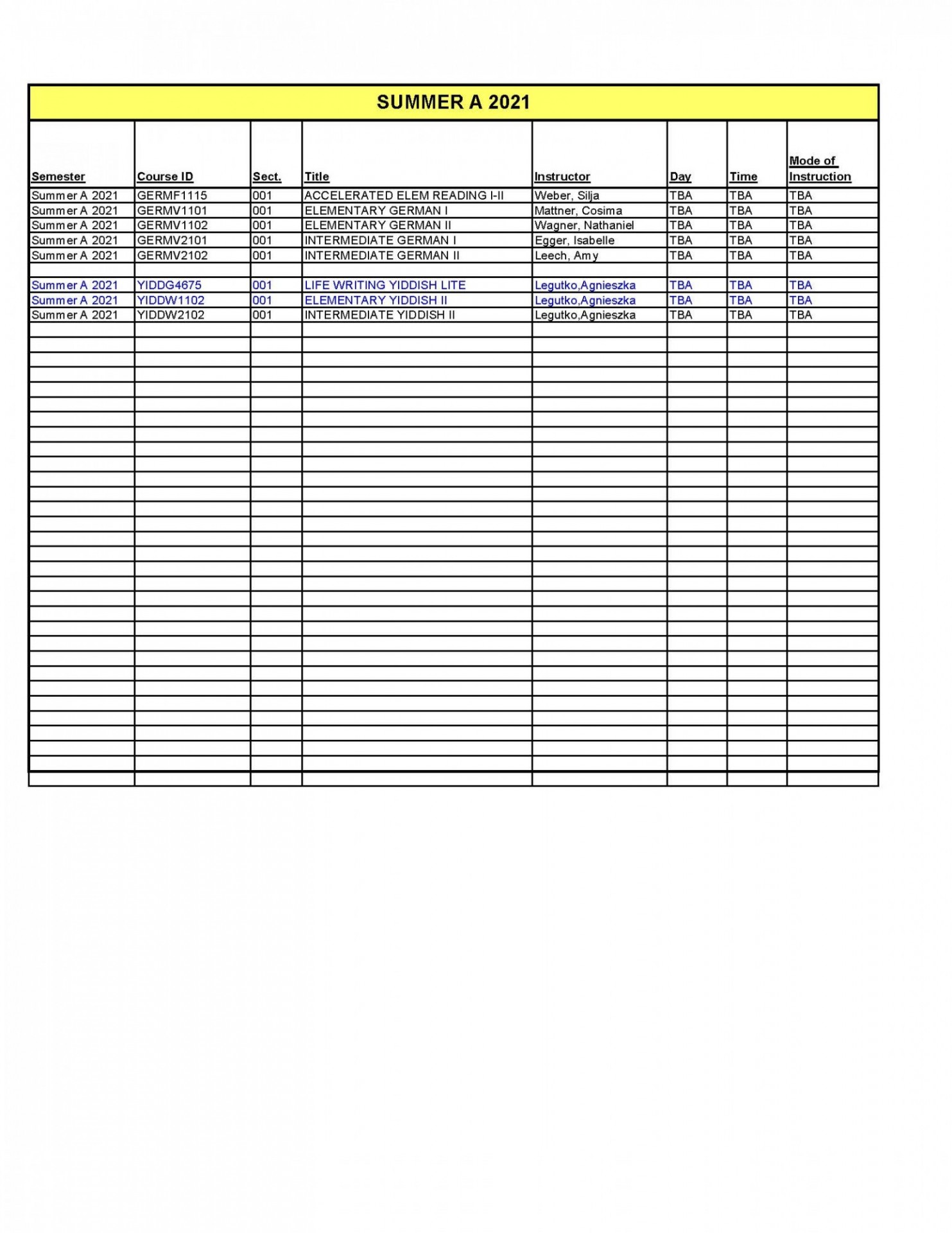 News
Summer 2020
Congratulations to Xan Holt, Ph.D. '20! He has just accepted a full-time lecturer position at Iowa State University. 
Congratulations to Tomasz Kurianowicz, Ph.D. '20!  He has been offered the co-directorship of the Feuilleton of Berliner Zeitung, starting July 1, and with a particular  emphasis on "Society and Debate"/humanities topics.
Fall 2019
The department is excited to welcome Annie Pfeifer to the faculty! Meet our new professor.
Christoph Schaub has joined the German Literature and Cultural Studies Department at the University of Vechta, Germany, as Wissenschaftlicher Mitarbeiter. 
Sophie Salvo has joined the German department at the University of Chicago as Assistant Professor. Congratulations, Sophie! 
Michael Swellander, a Ph.D. from 2018, is now a Visiting Assistant Professor in the Department of German at the University of Iowa.
The Frankfurter Allgemeine Zeitung has reviewed Stefan Andriopoulos's new book Gespenster, describing its readings of Kant, Hegel, Schiller, and Schopenhauer as "persuasive, precise, and elegant."